This slow cooker spaghetti sauce is one of our family's favorite Tuesday night dinners. Why Tuesday night? Because I work on Tuesdays and need something easy and quick for dinner. Also, everyone loves this spaghetti sauce at our house and there are no complaints – a win!
Why is this sauce so darn good? Something almost magical happens when it cooks all day in the slow cooker. The meat becomes super tender, which actually helps make the sauce nice and thick. Also, the tomato products have a chance to caramelize a bit. This results in a sauce with amazing flavor!
Could you cook this spaghetti sauce on the stove? Probably. But it would take a long time, you would have to babysit the pot so it would not burn, and it may never develop the qualities that make this sauce so yummy. The slow cooker is the way to go, baby! Read on to learn how to make this at home.
Assemble the Ingredients
This sauce uses simple ingredients that many people already have on hand. We will go through them now: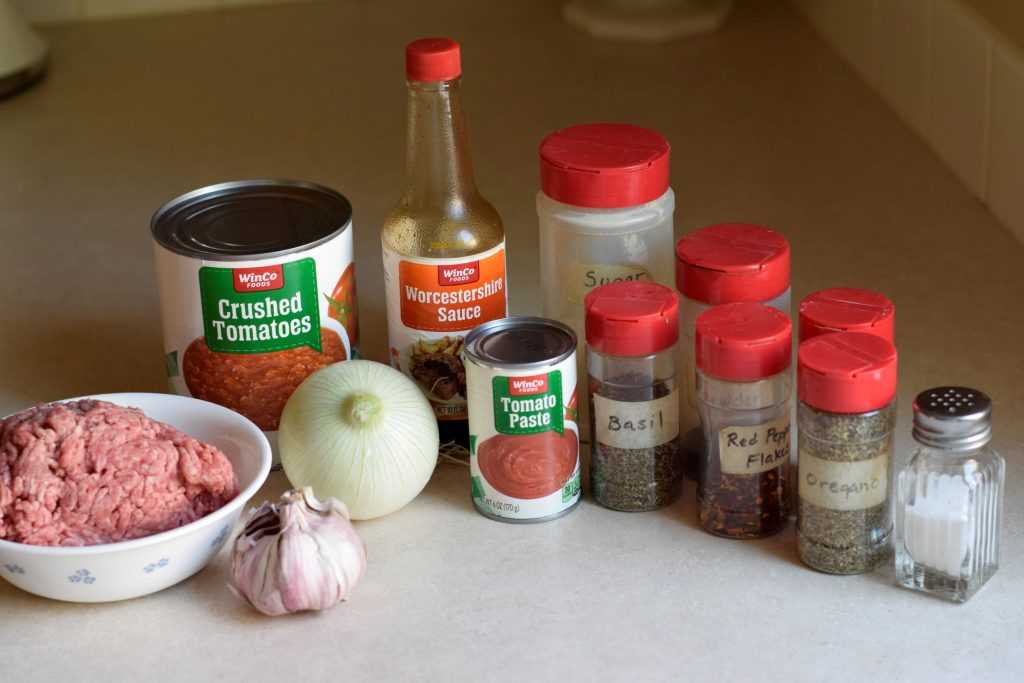 Tomato products – This sauce uses a large 28 oz can of crushed tomatoes. Why is that, do you ask? How are crushed tomatoes different than tomato sauce? Canned tomato sauce is made from tomatoes of course. But it also contains a bunch of other seasonings in it. On the other hand, crushed tomatoes are just that—crushed tomatoes, with a bit of citric acid and salt, for flavor. I like using the crushed tomatoes because it gives me more control over what seasonings go in the sauce.
Now, since crushed tomatoes are a little thinner than regular tomato sauce, I add in a small 6 oz. can of tomato paste to help thicken the sauce. I love tomato paste and use it all of the time. Tomato paste is about as simple as it gets ingredient wise–tomatoes. The combination of the crushed tomatoes and tomato paste gives this sauce a perfect thickness.
Ground beef – This sauce contains a pound of ground beef. Try to choose the leanest ground beef possible because it will cook in the sauce and you will not be able to drain away the grease.
Onions, garlic, and mushrooms – These give the sauce great flavor. I use onions and garlic out of my garden when I have them. For the mushrooms I use a 6 oz. can of chopped canned mushrooms for two reasons. First, they are easy and I can just dump them in. Also, they have been cooked and a lot of the extra moisture is gone. Fresh mushrooms might make the sauce too watery. And did I mention that canned mushrooms are easy?
You might notice that the mushrooms are missing from the picture above. I forgot to buy them at the store—oops! The sauce was almost as delicious without them 🙂
Seasonings – This sauce contains a variety of seasonings. The sugar and salt are importance for the balance of the sauce. You can adjust these to taste. The others seasonings help to develop depth of flavor. Adjust them to what you like!
Make the Sauce
To make the sauce you dump all the ingredients in the slow cooker and stir it up. Seriously. It does not get any easier than that!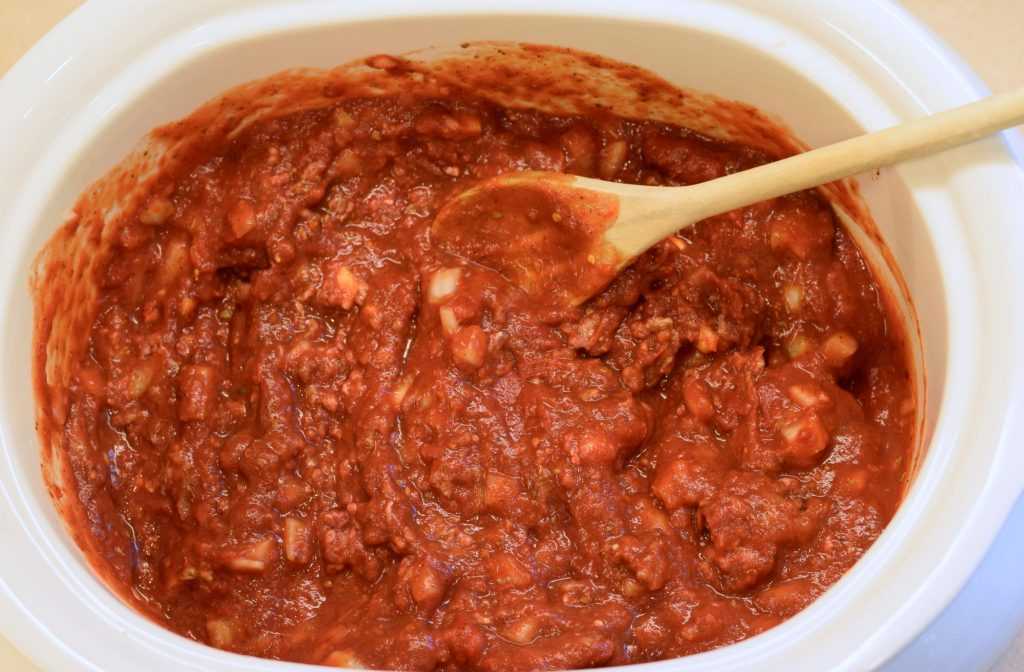 This sauce can be prepped ahead to save you time in the morning. To do this stir everything together the night before. Take the liner out of the slow cooker base, cover it with the lid, and refrigerate overnight. In the morning all you need to do is take it out of the fridge, pop it in the base, turn it on, and go about your day.
Cook the sauce on low for at least 8 hours. When I am at work it cooks for 10 hours and turns out great. The longer cooking process is necessary to help the sugars in the tomatoes caramelize and develop a deeper flavor. Do you see how the color has changed the picture below?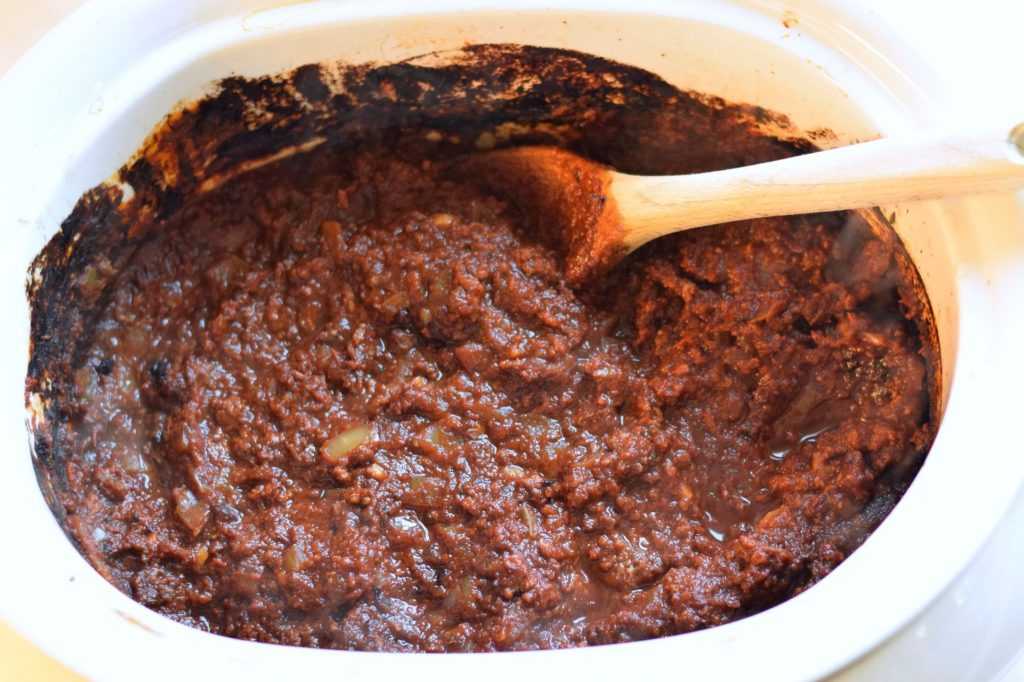 Serve
When you get home you will be greeted with the most amazing smell! Boil up some noodles, add some garlic roasted green beans (recipe here) and you have yourself a delicious meal everyone will love! Yum!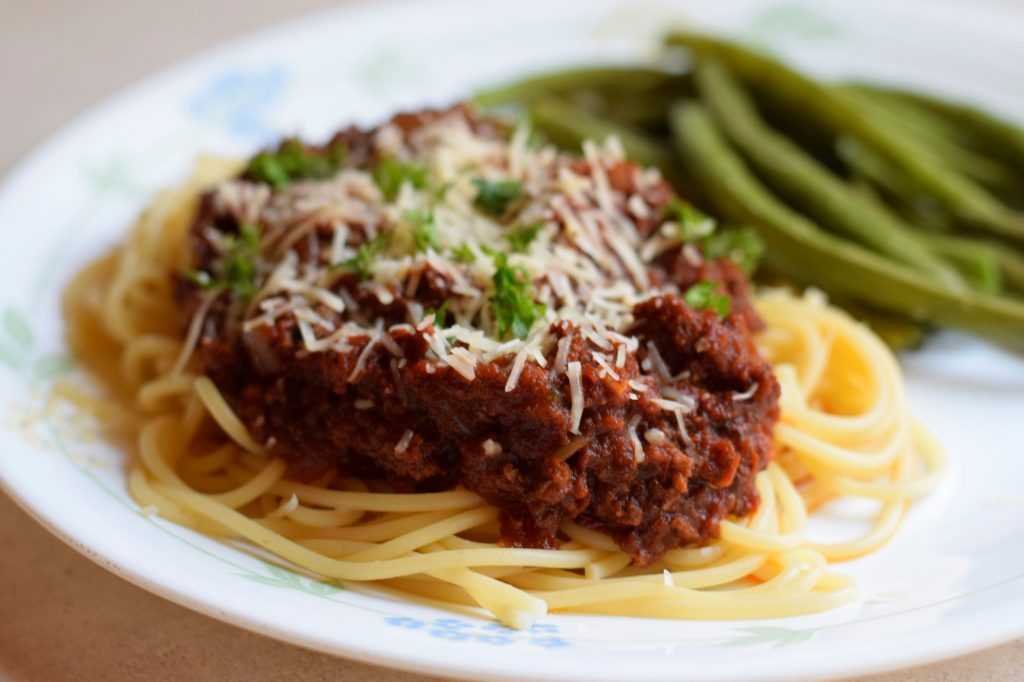 I hope you get to try this slow cooker spaghetti sauce soon. Happy Cooking!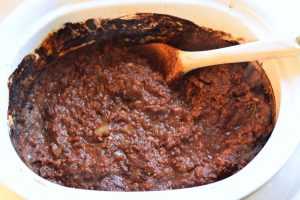 Slow Cooker Spaghetti Sauce
This spaghetti sauce takes minutes to throw together. After cooking all day the flavors blend to create one amazing sauce. It is the perfect meal for a busy weeknight!
Ingredients
1

lb

lean ground beef

1

can

crushed tomatoes (28 oz)

1

can

tomato paste (6 oz)

1

large

onion

,

chopped

3

cloves

garlic

,

minced

1

can

sliced mushrooms (4 oz)

,

drained

1

teaspoon

dried basil

½

teaspoon

dried oregano

1

teaspoon

sugar

¼

teaspoon

salt

,

or to taste

½

teaspoon

dried mustard

1

teaspoon

chili powder

1

teaspoon

worcestershire sauce

Dash

red pepper flakes

,

or to taste
Instructions
Stir all ingredients together in slow cooker.

Cook on low for 8-10 hours.

Serve hot over spaghetti or as desired.
Notes
This recipe may be assembled the night before if desired.  Remove the insert from the base, cover it with the lid, and refrigerate overnight.  In the morning place the insert into the slow cooker base, turn it on, and go about your day.  Easy!
---
Be sure to pin for later!